Luxurious sleeping accommodation awaits you when you stay at Mickey Mouse Pool House!
The first Master Suit welcomes you with King Bed. It is great for people with children, as it provides enough room for family snuggle sessions, and maximum comfort for those who co-sleep.
That bedroom is equipped with Smart TV and has walk in closet.
En suite master Bathroom has a double vanity, romantic double walk in shower and a huge bath tube. 
All towels, linens, and basic toiletries are provided. Each bathroom has also a hair dryer. 
An additional door leads to the pool area.
Second Master Suit has also King Size Bed. Calming decor and comfortable bedding will provide relaxation time after those busy days at Disney. 
The Mickey Mouse Pool House is perfect for two couples traveling together who both want "the master bedroom."
En Suite bathroom provides privacy and is equipped with tub/shower combination. 
The additional door leads to pool area so you can jump right from your bedroom to the pool!
Third bedroom has a Queen Size bed. Is is perfect for couple or for single sleeper who love to spread out. 
The over-sized window provides beautiful view to front garden.
A third bathrooms is accessible from the hallway. It has tub/shower combination. 
There cannot be Mickey Mouse Pool House without Mickey Mouse!
The kids bedroom has a a single over double bunk bed, a smart TV and a lots of toys!
There is even a roll away bed for when your group needs a few extra spots to lay their heads!
Mickey Mouse themed kids bathroom has tub/shower combination.
Smiling Mickey on the wall will remind the kids to brush, floss, flush and wash!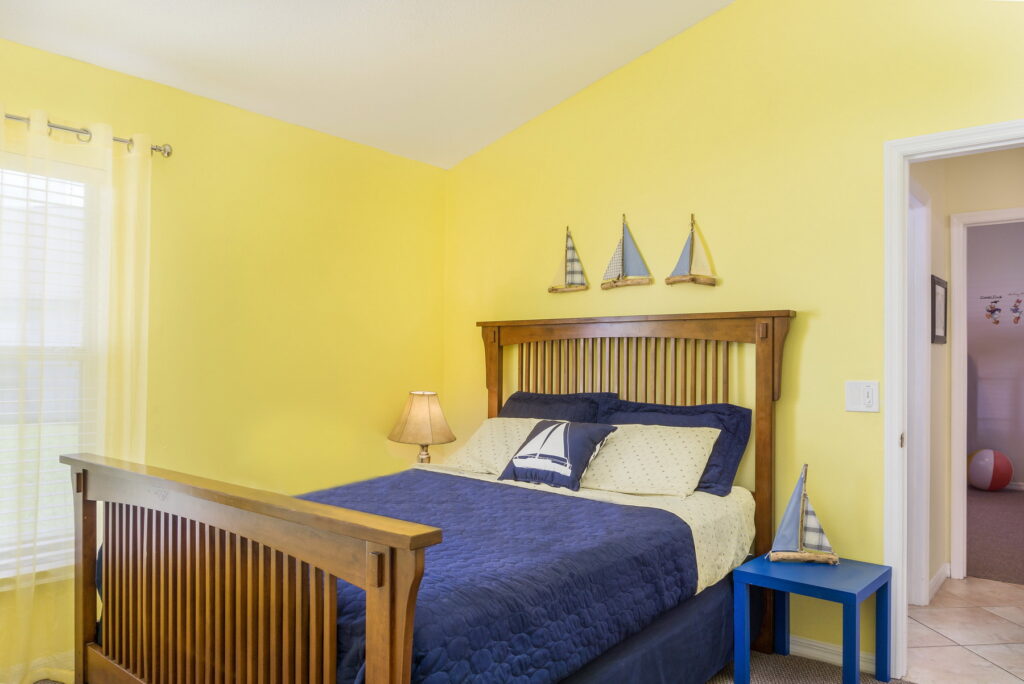 The fifth bedroom has a comfy Queen Size bed. It is perfect for grandparents or teenagers. 
The room is equipped with smart TV and has a shared bathroom.